Kyushu Roads "If you're going to Yanagawa ask the natives!" Yanagawa City version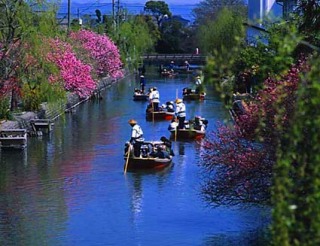 ■Day trip in Yanagawa-city: Wander through the fields and lanes in the city area. From Fukuoka central Nishitetsu station by Omuta Line Express: 48 min.
Yanagawa flourished in the old age and has seen beautiful white walls and old buildings. It is also known as the birthplace of the great poet Kitahara Hakusyu who has written quite a few heartwarming poems and nursery rhymes in this city. His poems remind us all of the great earlier times that can always be cherished.
Known also for its beautiful natural river, one can see fascinating sights along the banks. The river Cruise, which is known as Kawakudari is a popular amusement in this city.(low flat boats powered by men with poles) and that take you leisurely past flowering plants, weeping willows and historic buildings.
When the great poet Kitahara Hakusyu was alive he used to go to elementary school along a small road and one can go back to the past when he was happily walking on the road as a child.
There are many eel restaurants and eel is one of the specialties of the city. If you like to travel on a budget, steamed or boiled eel baskets would be nice to try! If you would like to try one of the most popular lunches in Yanagawa, OHANA would be the one!
If you have free time, why not visit the Chubu district Fish Market? You would be able to buy all kinds of seafood (such as dried fish) from the Ariake Sea!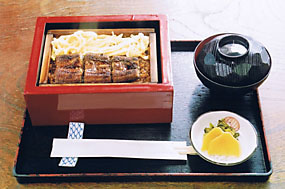 ●April〜September everyday departure
The fare is 10,000yen with a Tour Guide (this tour will only take place with 2 or more people). An English speaking guide will be available if required.
●Your itinerary
Pick up service around Tenjin or Hakata station area at 9:00am…Nishitetsu Tenjin station ++48min++Yanagawa…25min Shinsyo Temple…Cyomei Temple…Namikura –taste Miso soup! Namikura is one of the oldest Miso making place in Yanagawa city! 8min…Abekku road…Ryujyo Park
19min…the road of Hakusyu 25min…Wakamatsuya (the popular eel shop) 8min…The Tachibana-Tei Ohana〜River cruise 60min〜…Nishitetsu Yanagawa ++48min++Tenjin Fukuoka arrival -free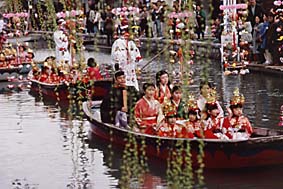 ※The tour fare includes:
Express Nishitetsu line train return tickets、the entrance fee for Hakusyu birth-place, Ohana, and the river boat cruise, lunch (the special steamed turnip and eel in amber sauce)、Guide fee for 8 hours.
Note:If you would like to have lunch in OHANA, then please add 10,000yen.
Please, ask Emi Tanaka.